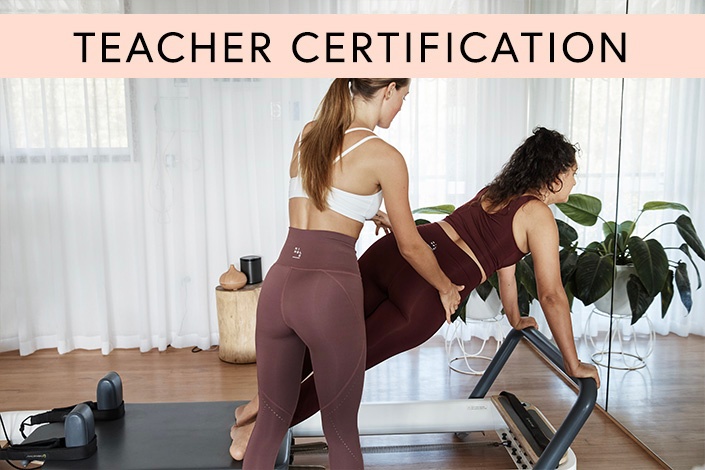 Reformer Pilates Teacher Training
Learn to become an exceptional Reformer Pilates teacher with Barre Body.
Enroll in Course
As Australia's leading barre & Pilates company, we have developed the best and most comprehensive Pilates Reformer training program. We've put the same love, care and wealth of knowledge & skills into our online training as we have in our in-person trainings.
SIGNATURE FLOW
You'll learn our signature Reformer Pilates style in this intensive online course. The Barre Body style is dynamic, creative and fluid and we've applied this to Pilates Reformer in our in-depth professional training.

BE EXCEPTIONAL
We believe in giving you all the tools to be an exceptional teacher. Our training gives you everything you need (class planning, repertoire, creativity, flow, balance, anatomy, clever sequencing and more!) to truly feel confident teaching Pilates Reformer.
START NOW
Choose your start date and take the course at your own pace. Work through the modules in your own time - six months of access guaranteed so you won't be rushed. We will also post you a physical manual with over 170 pages of repertoire and magic.
DIVE DEEP
Our Pilates Reformer training is not a crash course. You'll be guided through hours of comprehensive content including videos of every exercise, practice teaching and review, to ensure that you graduate fully equipped to teach exceptional classes.
SUPPORT
We're here to guide you every step of the way. From our dedicated master trainers who are available around the clock to answer your questions (and weekly webinars for extra love), through to our active community of trainees who will become your study partners as you embark on this next phase of your career, we've got your back.
Your Instructor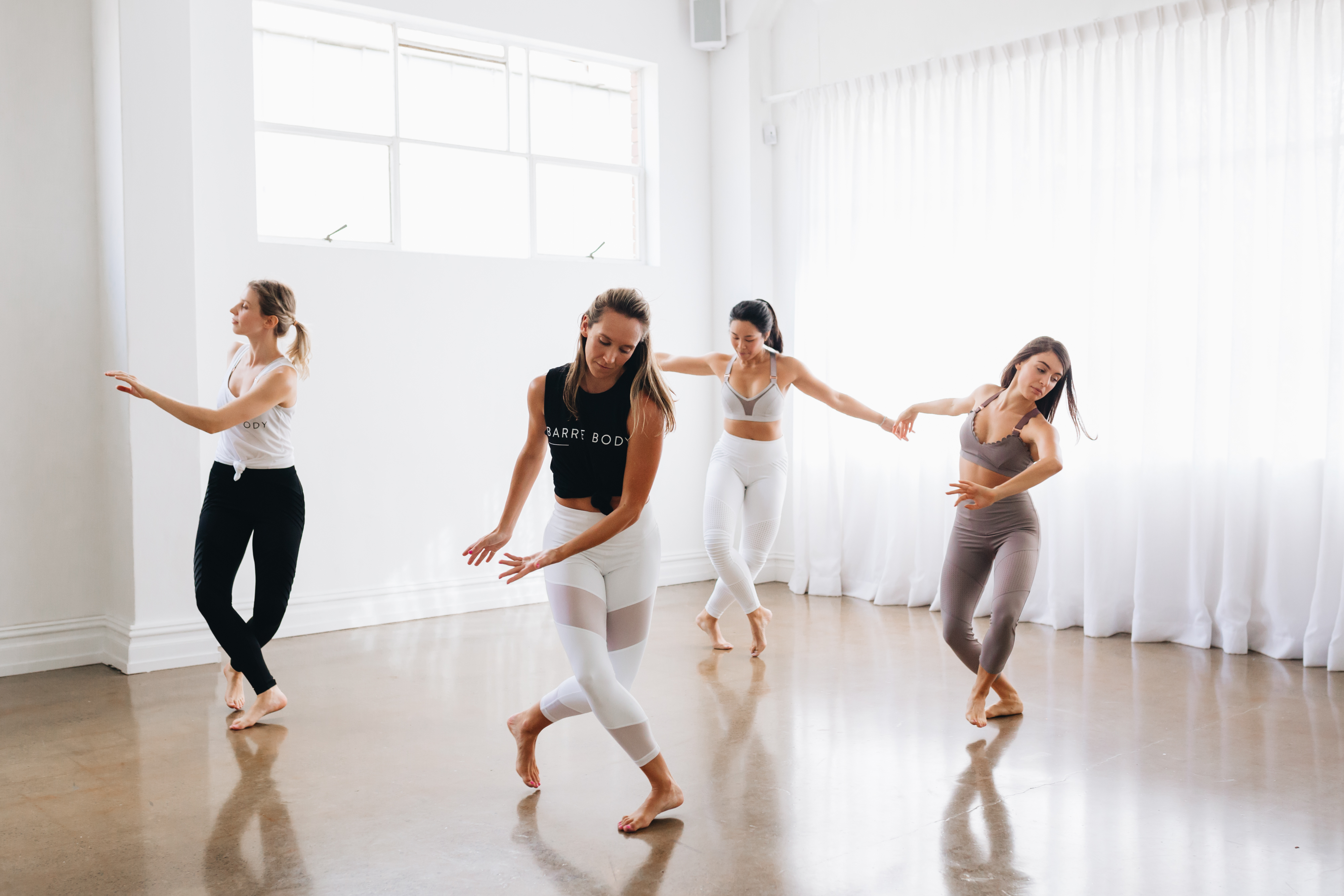 Barre Body pioneered the barre style of workouts in Australia. Inspired by the Lotte Berk method, our barre classes gained a cult following for delivering fast results beautifully blended with the right mix of flow and fun. With 9 studios in Australia and a team of 80 instructors, Barre Body is the best in the barre business.
Course Curriculum
Welcome!
Available in days
days after you enroll
Module 1 - Anatomy basics
Available in days
days after you enroll
Module 2 - Introduction to Reformer Pilates
Available in days
days after you enroll
Frequently Asked Questions
Are there any prerequisites?
It's totally fine if you have not taught before - we've had people from all walks of life wanting to become teachers. However, Pilates Reformer is a challenging course, and for this reason, you would benefit from undertaking Pilates Mat or Barre Teacher Training prior to beginning Pilates Reformer Teacher Training, but this is not a strict prerequisite for enrolling.
How long do I have access to the course?
After enrolling, you have unlimited access to this course for a total of 6 months! We suggest writing notes and the exercises down in your manuals so you can keep them with you forever!
I don't have a clue about anatomy. Help!
Firstly, don't panic! One of the very best things about Barre Body's training programs is that we make learning anatomy accessible and even – wait for it – fun. Promise!
What support will I get during the course?
You can ask questions at any time online and they will be answered by one of our master trainers, who are available around the clock to answer any queries and to help guide you through your course. You will also gain immediate lifetime access to our Facebook community of trainees and graduates.
How is the course structured?
Your training consists of three key elements. These are knowledge acquisition (your online course, which is go at your own pace), skill development (20 hours of classes and 20 hours observations) and capability and confidence building (10 hours practice teaching plus assessment).
Can you tell me a little bit about pricing, please?
When you click through to the details of each course, you will see a price. It's worth noting that in addition to this price, you will need a membership at a studio or online platform, so you have somewhere to conduct your professional development hours. We don't include a membership in our pricing (as a passionate fitness lover, we assume you may already have a membership somewhere near you where you can do your professional development hours ... And we don't want you paying twice!).
Can I do my observation hours online?
We understand it's still a tricky time right now with heavy restrictions still in play. If you have the ability to visit a studio, we recommend completing your hours face to face. However, you are welcome to complete your hours online via Barre Body Online. As a Barre Body Teacher Training student, you receive discounted access to Barre Body Online.
What does the assessment involve?
Once you have completed all the modules, as well as 10 practice teaching hours, 20 class participation and 20 class observation hours, you must submit a video of you teaching a full 50-60 minute Reformer class. This will be assessed by our team of teacher trainers. The course is designed to prepare you to pass with flying colours and you can't fail, though we may ask you to resubmit your assessment if it doesn't meet the criteria.
Do I need to own a Reformer?
You will require a Pilates Reformer machine to undertake Barre Body's Pilates Reformer Online Teacher Training course. You may choose to purchase a Reformer if you are planning to continue your own practice at home (or to teach from home), otherwise, you may choose to rent a Reformer. There are a range of Reformers available on the market for both sale and for rent, and we recommend the Allegro 2 Reformer (this is the Reformer we use in our training program and in our studios, and is the machine you'll be most likely to teach on). Allegro 2 Reformers are readily available, and a simple Google search in your local area will likely return some results on where you can rent one from (including local studios). If you require assistance in sourcing a Reformer, please reach out to our team at
[email protected]
What classes can I do for my observation, participation and practice teaching hours?
Your hours for Observation, Participation and Practice Teaching must be on a Reformer. Pilates Mat classes (or any other fitness class) will not be accepted. You can do these classes at any studios offering Pilates Reformer classes on their timetable, or through Barre Body Online's Reformer classes.
What accreditation do I need?
One point that is worth touching on here is accreditation. A complex (and often contentious) point of discussion, we recommend speaking to your future training partner about what your goals are, and what certifications you'll require to get there. We know, yawn! However it's important that you understand how to have a recognised fitness qualification so you spend your money on a qualification that will allow you to do the things you love. Here is the good news. The Australian government has made some smart decisions that have given us this beautiful, dynamic and creative industry we love today, and they've also allowed us the gift of self-regulation. This is so important, as the whole objective of Pilates and barre is to provide people with the tools to move safely, in a beautiful way that suits them. Without rigid frameworks, we're able to do this and can keep classes - and the industry - dynamic and inspired. While there are some government accredited courses out there, the majority of the barre and Pilates industry does not do government accreditation as it can reduce the dynamic nature of training, costs time and money in compliance, but most importantly, isn't needed for employment or insurance. The second type of recognition comes from associations. These are not for profit organisations like Fitness Australia and Exercise Sports Science Australia. There are many associations across the globe you can join, and these are fantastic value-add organisations. While they don't govern the boutique fitness industry and you don't need them to be employed in a boutique Pilates or barre studio or for insurance in Australia (or many other self-regulated countries), they can give you some really beautiful benefits. They share industry information with you and can give you access to a legal hotline if you ever need one. They are important if you want to be a Personal Trainer or work in a big box gym. So be sure to do your research or ask us if you want to know more about what you need to know if you want to teach barre or Pilates in a big box gym. Finally, the third type of recognition is the one that is 100% required for you to make an income from teaching, to get insurance and most importantly to be the inspiration that your clients need you to be. It's industry recognition. Industry recognition is based on industry experience and reputation. Insurers will ask for an industry recognised qualification to insure you. Employers and clients will also look to what graduates are doing in studios and online, they will look to the studios that have opened as a result of the trainers' work, and they will look to all the stories and all the experiences of your training education provider. This tells a tale in the marketplace about the quality of training you've received and what you should be able to do as one of their graduates. Industry recognition is the shining star that proves you're capable of inspiring people to move. It allows you to tap into your trainer's reputation and move in line with the passion-fuelled energy that trainer pours into teaching. This includes how to bring grace, movement, physical health, mental health, and a tangible positive energy to the lives of those you will inspire to move. While this is a lot of information to take in, at the end of the day, at Barre Body, our top priority is making sure you graduate from our Teacher Training programs ready to teach world-class classes. You'll receive invaluable feedback from our training team to make sure you're set up for success from day one, and that you're ready to be hired. Having spent a decade dedicating ourselves to creating best-in-class classes and experiences for our clients both online and in-studio that we've become known for worldwide, you're in the very best hands with Barre Body.