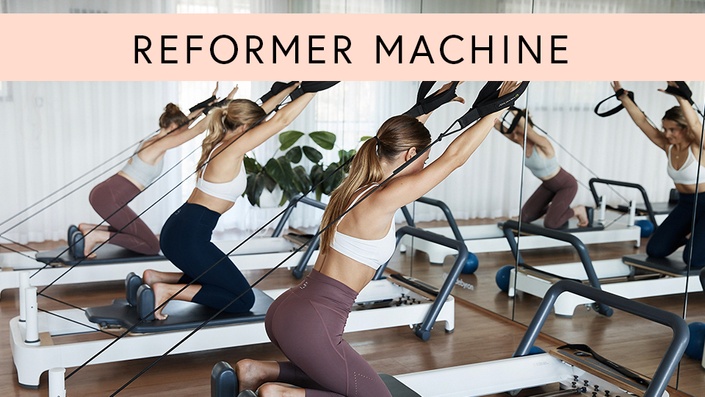 Your Own At-Home Pilates Reformer Machine
Delivered to your home (anywhere in Australia!)
At Barre Body, we know how important - and how valuable - it is to be regularly practicing, playing and perfecting your craft. Whether you're a barre instructor, Pilates teacher or are nailing an expertly crafted Instagram caption, you know what they say ... Practice makes perfect. And fun. And challenging. And creative.
When you're a Reformer Pilates instructor (or are training to be one), this becomes a little more challenging as access to a Pilates Reformer machine is not always easy to come by. That is, until now.
We have partnered with a premium Australian Pilates Reformer brand to bring you the ideal at-home Pilates Reformer machine. Sturdy and technical enough to practice on every day (or indeed, to host private clients on), but slim and subtle enough to slide right on under your bed when not in use. What's more, this Reformer includes a sitting box and one year of unlimited access to Barre Body Online (so you can Reform to your heart's content.)
If you're thinking of training as a Reformer Pilates instructor, are already teaching and are looking to refine and hone your teaching skills, or are simply looking for the ultimate in an at-home workout, this machine has you covered.
Find out more about this incredible, affordable Pilates Reformer in our video with master trainer Liana Hudson below, or please get in touch with our team if you'd like more information.
You will receive:
At home custom designed commercial grade Pilates Reformer
12 months parts warranty
Reformers in stock now for immediate delivery (included in your pricing - anywhere in Australia)!
Reformer Specifications
Folded dimension:150cm x54cm x18cm
Unfolded dimension:245cm x54cm x18cm
Weight: 53kg
Carriage padding: High Density Foam
Siting height:180mm
Machine body: Steel
Slider: Stainless steel
Are you ready to take your Pilates Reformer practice - and your teaching opportunities - to the next level?