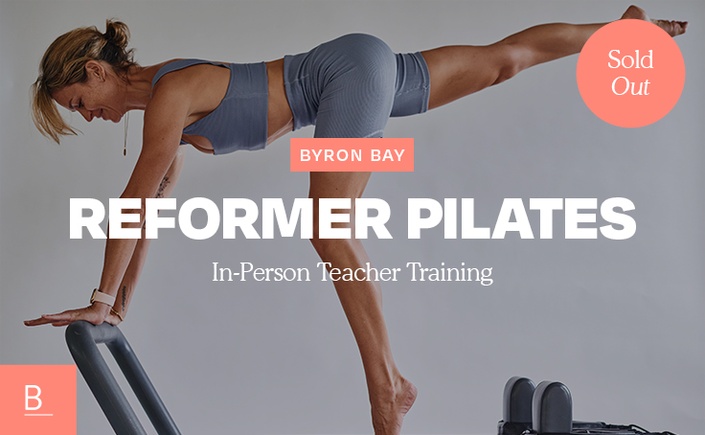 *SOLD OUT* December Reformer Teacher Training Byron Bay 2023 (2nd - 8th)
Byron Bay December 2nd - 8th 2023
Reformer Pilates was once the realm of rehab-focused clinical sessions (necessary but a touch boring – don't tell!). Now in-demand everywhere from boutique studios to big name gyms, Reformer Pilates has become more dynamic, creative, and fitness-focused. Teachers need to be equipped to teach and manage different levels and needs within a group class. Barre Body is Australia's industry leader when it comes to boutique fitness, and we know what it takes to deliver exceptional group classes. That's why our Reformer course teaches you not just the repertoire, but how to teach it. We'll show you how to confidently design flowing, fun Reformer classes that transition seamlessly (keeping those spring changes to a minimum) while offering a great workout no matter who's in your class.
OUR PILATES REFORMER COURSE COVERS
Anatomy and physiology
Alignment principles
Industry leading Reformer repertoire
Dynamic and effective teaching skills
Formatting and sequencing for 45 + 60 minute classes
Hands-on adjustments
Pre and post natal modifications
Common injuries and competency modifications
Pilates conditioning
Pilates terminology
Reformer equipment training
Variations for beginners to advanced students
Practice teaching
Cueing and verbal instructions
Uncovering your unique teaching style
COURSE STRUCTURE
Our Reformer Pilates Teacher Training course is 150 hours of fun! So you know exactly how those hours are made up, here is a breakdown (before you have one):
10 hours pre-training
Alignment principles
47 contact hours delivered in the studio
20 hours anatomy self-study via online review modules
20 hours repertoire self-study via online and manual review
20 hours in-class observation at Reformer Studios
20 hours participation at Reformer Studios
10 hours practice teaching
Weekly guidance, feedback and mentoring via emails and Facebook community
3 hours assessment prep. You can submit your assessment up to 6 months after you complete your in-studio hours
Your Instructor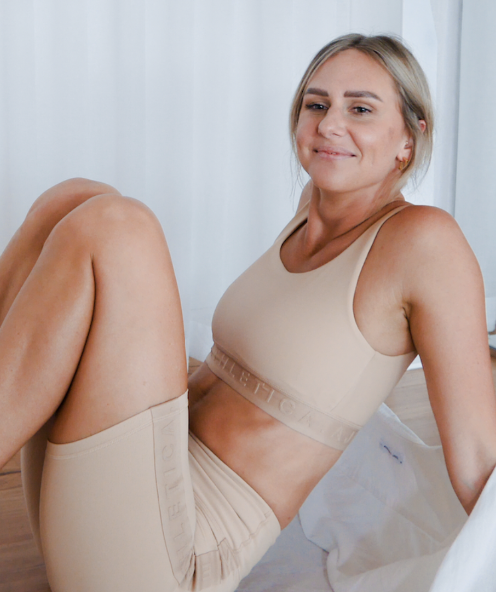 Let's meet Liana
Liana Hudson is currently Barre Body's head of training and teachers. Her role involves the development and management of all face to face and online training for Pilates Mat, Barre, Reformer Pilates and short courses. She also manages the mentoring, development and continued education of the Barre Body instructor team in Melbourne, Sydney and Byron bay. Liana's role in training is driven by passion, something she wanted to achieve since stepping into the fitness industry in 2014. Sharing knowledge and assisting people how to learn, build confidence and become an authentic instructor, is forever rewarding and a dream come true. Her love for movement started young as a gymnast and ballet dancer, and continued to grow when finding Pilates. She has completed training and certificates in Pilates mat, Reformer Pilates, Barre, many short courses and is currently undergoing her certificate IV in training and assessment. Liana has been a part of the Barre Body family since 2016, and was drawn in by the brand's core values around movement. The brand and format is welcoming and inclusive, it's all about body neutrality, moving the body based on feel not image, finding joy in movement and allowing each individual to take it at their own pace. She started out at Barre Body as an instructor, turned studio manager in Brisbane as well as joining the teacher training team and now into her current role. Continuing self development, growth and research is important to Liana as a teacher but also to ensure the courses are up to date with recent science and research. She is still just as passionate as when she began!

Let's meet Rebecca
Rebecca's Pilates journey began at age 17, when she was told she would only get into full time ballet school in New Zealand if she sorted out her posture with Pilates. Since then, it has become the backbone of her physical health and one of the things she can't live without. After a dance career performing in such places as Tokyo Japan and Macau, along with numerous cruise ships and other shows and events, she did her Pilates Mat and Reformer teacher training in 2011 along with her 200HR Yoga teacher training in 2013, and numerous Barre trainings including the Barre body teacher training. She continues to educate herself and has completed at least 500 hrs of Yoga Teacher training and many other short courses in Pilates and Barre. Rebecca is the Training and online Manager for Barre Body Online and Bende Byron Bay. She hires and mentors new and current teachers at Bende in Byron Bay. She has been involved in the training of teachers with Barre Body since 2018 and also worked on numerous Yoga teacher trainings.
Lets meet Sam

Sam is one of our head teachers at Bende in Byron Bay, and is also part of the Barre Body Teacher Training team. Pilates has been part of Sam's life from the very young age of 14, with ongoing ankle injuries from dance it was an incredible physio who introduced Pilates to her world and allowed her to pursue her passion and later a career in dance. At the age of 19 she completed her first of many Pilates teacher trainings in Mat Pilates which she took with her around the world continuing to teach and practice to complement her dancing career. It wasn't until many years later when she finally hung up her dancing shoes that she discovered the Reformer bed. Now with well over a decade of teaching under her belt in Reformer, Mat Pilates and Yoga she loves to bring all these concepts, blending them to move and breathe with a focus on mobility, flexibility and joy. Sam loves to empower people to love and listen to their bodies, a skill that came a lot later in life for Sam. To inspire people to celebrate everything their bodies can do and help carve more instructors to do the same is a dream job. Sam started as an instructor with Bende in 2020. Immediately falling in love with the company for its community based focus and passion for health and happiness it was a no brainer to continue to become more and more involved with the company as time continued.
Let's meet Sara

Sara is part of the Barre Body's training team. Her role involves facilitating the face to face and online training for Pilates Mat, Barre, and Reformer Pilates. Sara is also an instructor at Barre Body's Pilates studio, Bende, at both the Byron Bay and Ocean Shores studios. Her passion for Pilates and Barre started as a practice of self-care, and this passion continued to grow into a calling for a change of career. Sara completed her Pilates Mat, Barre, and Reformer Pilates training through Barre Body at the beginning of 2019 and began teaching straight away. Over the last four years, Sara has continued her knowledge of movement and teaching through short courses and experience in teaching. She strives to share her passion for movement and teaching and connect with like-minded individuals who are taking the daunting step of diving into a new career change, just like she did.
Course Curriculum
Bende, Byron Bay!
Available in days
days after you enroll
Pre - course reformer study
Available in days
days after you enroll
EARLY BIRD PRICING IS NOW OPEN
Enrol before the 2nd of October and pay $2500 (usually $2750)
This course is closed for enrollment.
Can't make it to in-person training? Train with us online anywhere, anytime.
$1,800
Learn to become an exceptional reformer Pilates teacher with Barre Body.

Barre Body
$1,800
Learn to become an exceptional Pilates mat teacher with Barre Body.

Barre Body
$1,800
Learn to become an exceptional barre teacher with Barre Body.

Barre Body
View All Products